Fehmarnbelt tunnel  (2022-2023)

Denmark's largest infrastructure project, the Fehmarnbelt tunnel, will remove a bottleneck, reduce travel time and strengthen links between Scandinavia and Central Europe. When the Fehmarnbelt tunnel is completed, the journey between Rødbyhavn and Puttgarden will take 7 minutes by train and 10 minutes by car. The project is also part of a greener traffic corridor in Europe and will boost the transport of freight by electric trains.
The knowlede  center at the Technical University of Denmark will focus on selected innovations in construction methods and technology. These will be applied  and tested in realistic workplace environments to advance construction practices that make the industry and its workforce overall more competitive, productive, safe, and environmental friendly. Particular emphasis is the involvement of the local industry and student body (the next-generation workforce and engineers).
BEEYONDERS – Breakthrough European tEchnologies Yielding cOnstruction sovereigNty, Diversity & Efficiency of ResourceS (2022-2025)


EU H2020: #101058548
Demographic trends in Europe are posing a challenge to the construction sector, which is facing, among other critical issues, a labor shortage due to an aging workforce. This can be addressed through the integrated adoption of breakthrough technologies, for example, autonomous machines, collaborative robotics, additive manufacturing, smart wearables, digital twinning, and artificial intelligence. These can help to get construction tasks done more efficiently, while at the same time making the sector more attractive to young people and improving its safety, productivity, quality and environmental performance on construction projects.
BEEYONDERS will take a leap forward in the design, development, and integration of these breakthrough technologies in real construction scenarios, bringing together the capabilities of European stakeholders, thus also demonstrating how the dependency on technology import from outside Europe can be reduced.
Solutions will be developed for supporting the integration of autonomous and tele-operated, ground and aerial robotic platforms and heavy equipment in harsh environments. Innovative additive manufacturing solutions will be developed for resource optimization and for protection of biodiversity in maritime works. Safety, wellbeing, and training of workers will be improved through the development of exoskeletons, advanced wearables, and learning resources supported by XR technologies. A Digital Twin enriched with AI-based layers for decision-making will support seamless integration and management of all project technologies. These will be tested and validated in six demonstration case studies covering different project typologies: tunnels, earthworks for road construction, buildings, maritime infrastructures, and road maintenance.
BEEYONDERS impact will be evaluated both from the point of view of users' acceptance (e.g. benefits for the workforce, attraction of young workers, contribution to gender balance in construction) and environment (e.g., LCA and LCC applied to all project).
BIM2TWIN – Optimal Construction Management & Production Control (2020-2024)


EU H2020: #958398
The project "BIM2TWIN: Optimal Construction Management & Production Control" (2020-2024) is sponsored by the European Commission's Horizons 2020 Framework Programme through its Digital Twins call for proposals. It aims to build a Digital Building Twin (DBT) platform that provides full situational awareness for construction management by implementing lean principles to reduce operational waste of all kinds, shorten schedules, reduce carbon footprint and costs, and enhance quality and safety. It supports a closed loop Plan-Do-Check-Act mode of construction and an extensive set of construction management applications.
The key research features of BIM2TWIN are:
Digital collaboration among project stakeholders to advance industry standards, methods and best practices.
Grounded conceptual analysis of data, information and knowledge in the context of DBTs, which underpins a robust system architecture.
A common platform for reality data acquisition and complex event processing to interpret multiple monitored data streams from construction site and supply chain to establish real-time project status and condition in a Project Status Model (PSM).
Exposure of the PSM to a suite of construction management workflow applications through an easily accessible application programming interface (API) and directly to users through a visual information dashboard.
Applications include monitoring of schedule, quantities & budget, quality, safety, and environmental impact.
PSM representation based on property graph semantically linked to the Building Information Model (BIM) and all project management data. The property graph enables flexible, scalable storage of raw monitoring data in different formats, as well as storage of interpreted information. It enables smooth transition from construction to operation.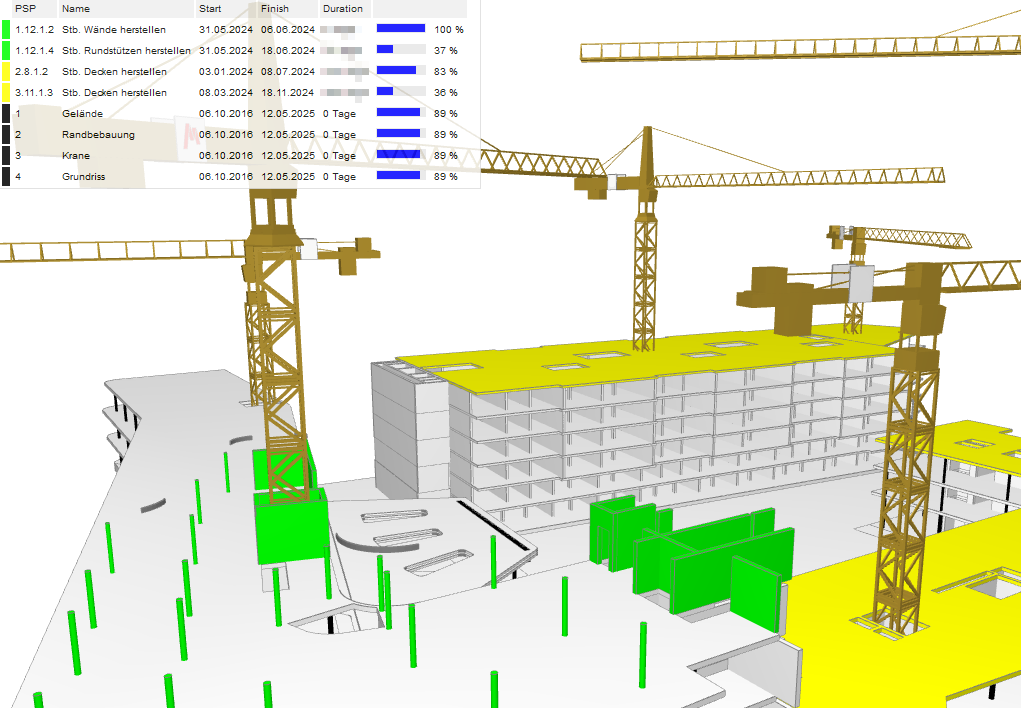 COGITO – Construction-Phase Digital Twin Model (2020-2023)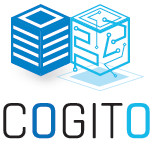 EU H2020: #958310
The project "COGITO: Construction-Phase Digital Twin Model" (2020-2023) is sponsored by the European Commission's Horizons 2020 Framework Programme through its Digital Twins call for proposals. COGITO aims to materialise the benefits digitalization brings for the construction industry by harmonising Digital Twins with information from construction projects. The project envisions to create and test novel methods and technologies that enable lean construction, for example, contribute to reduce operational waste of all kinds, shorten construction schedules, reduce carbon footprint and costs, and enhance quality and safety. COGITO sets emphasis on the planning and operations phase of construction projects. Methods like Building Information Modeling (BIM) for safe and efficient construction site planning and sensors for as-performed project status monitoring and control play vital roles in the research. Simply cobbling together a selection of monitoring technologies and devising appropriate applications, however, would fail to deliver the potential fundamental change that Digital Twins make possible for construction. Therefore, COGITO places development of the fundamental principles for a Digital Twin for the construction-phase at the core of the research.
The research team at DTU formalizes and tests a digital construction twin specifically for construction safety and health. They work The team's core contributions are:
Early hazard prevention through smart worksite planning using artificial intelligence,
Proactive real-time construction site risk monitoring using smart sensors for prediction and avoidance before accidents occur,
Advancing digital collaboration and decision making at all construction project levels and processes in health and safety using collaborative work environments, and
Enabling personalized feedback and learning using virtual education and training.
COGITO focuses on infrastructure construction applications. The demonstrators that will be developed in this project aim at demonstrating processes and technology that identify, eliminate and learn from hazards on real construction sites.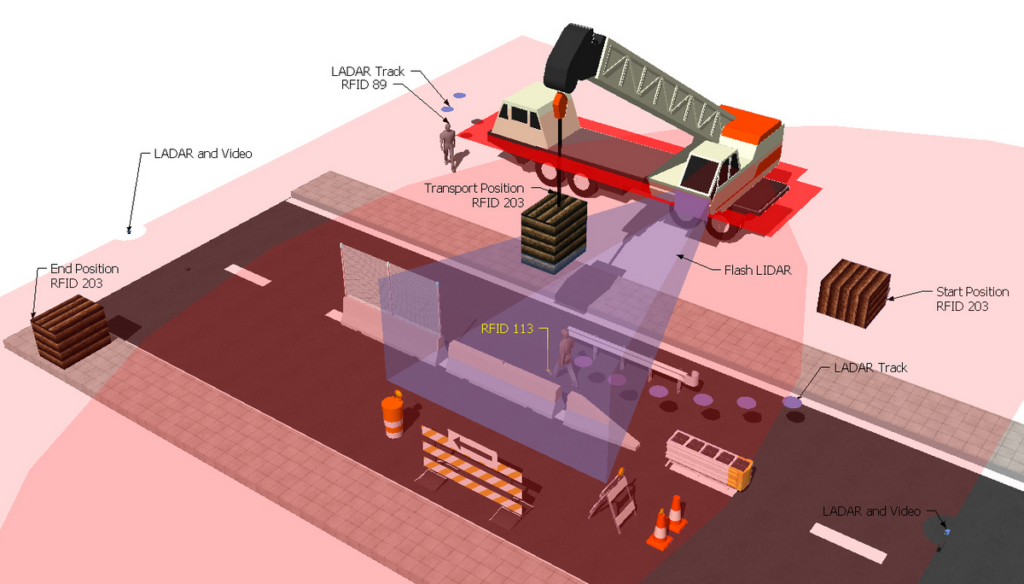 GREEN CONSTRUCTION SITE OF THE FUTURE (2021-2023)

Sags nr.: 2020 – 37291
Ministry of Environment of Denmark (Danish Environmental Protection Agency) on processes and technology for zero emissions in construction equipment operations
2030 climate goals and a strong focus on pollution from urban construction sites calls for a green conversion of the construction industry.  Until December 2023, the project The Green Construction Site of the Future will investigate the effect of various initiatives on selected construction sites.
The project will establish a data-driven full-scale demonstration of the green construction site of the future. The initiatives involve the conversion of construction machinery into electricity and other alternative fuels such as HVO or GTL. Some special machines that cannot be converted will have a particulate filter and SCR catalyst fitted. In addition, CO2 reducing energy systems will be established, e.g. solar cells and digital tools that will contribute to on-site logistics optimization and smart behavior.
Sensors on site and attached to the individual vehicles will measure the effect of the measures, which will be implemented individually. By means of sensor technology and location data, a heat map will be developed showing the route of e.g. a loader, what it does and how much it costs in emitted particles and CO2.
The goal is to create a so-called digital twin which documents current driving enabling to see how improved logistics can reduce driving and thus emissions and CO2.
A further initiative is a smart energy infrastructure with solar cells and heat pumps on the portable cabins supplemented with an energy storage for balancing load. Danish Technological Institute will identify and analyze electricity consumption to identify possible energy savings and increased flexibility.
The purpose is to give the industry evidence of which green initiatives provide the most climate and environmental impact for money. The vision is that the project will thereby contribute to the sustainable society of the future, where the availability of sustainable alternatives will make more contractors demand increased sustainable construction sites.
GREEN-TRACK (2021-2023)

IRFD Green Transition: Sociotechnical System to Reduce Waste in Construction Projects
To established causal relationship between construction workers' efficiency and Embodied Energy in construction derives that any improvement in construction efficiency also is an improvement of construction's sustainable footprint, and thus a reduction of Danish CO2 emissions.
TECHNICAL UNIVERSITY OF DENMARK (2022-Present)

Research and Teaching Laboratory for the Next Generation of Technology Savvy Construction Engineering and Management Leaders
International Standards, Regulations, Rules, and Best Practices for Industry Application
Advanced Processes and Information, Communication, and Sensing Technologies for: Automation and Robotics in Construction, Project Risk Prevention through Design and Planning (PtD/P); Real-time Construction Phase Progress Monitoring, Data Processing, and Control; Proactive Runtime User Feedback; and Personalized Learning through Active Education and Training